Decades of Experience
Crestview Electric relies on the experience of our estimators and project managers to assist our customers with projects of any size. Our team has been responsible for jobs of all sizes, from service contracts to multi-million dollar installations. We pride ourselves on our ability to stay on time and on budget no matter the size of the job.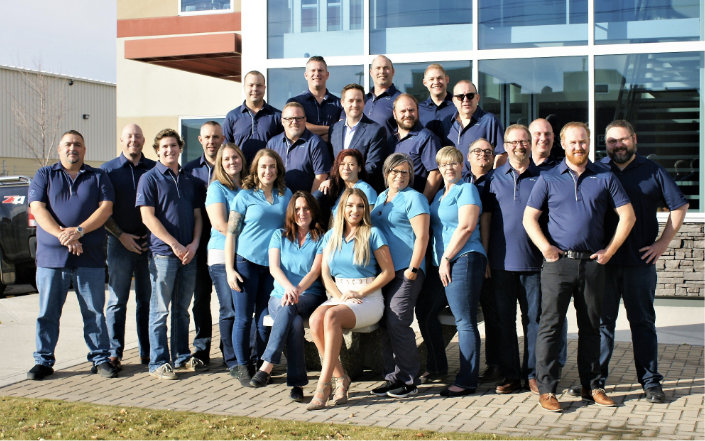 Our Growth Over The Decades
July 1988

Jul 88

Tim Engel & Partner start a 2-man electrical outfit in a makeshift office in Tim's basement.

December 1988

Dec 88

Hires 1st Apprentice

Only work vehicle burns to the ground along with all their tools after being side-swiped.

September 1989

Sep 89

Opens office in a small bay in Foothills Industrial Park.

May 1990

May 90

Employee count hits 10.

June 1997

Jun 97

Tim's son, Ryan, joins the company.

July 2003

Jul 03

Employee count reaches 50.

February 2005

Feb 05

Addition of 3rd Bay to office.

July 2005

Jul 05

Tim buys out his retiring partner, making him the sole owner.

May 2006

May 06

Employee count reaches 75.

October 2008

Oct 08

Addition of 4th Bay to office.

January 2009

Jan 09

Buys Out Tritech Electric.

March 2010

Apr 10

Becomes COR Certified.

December 2010

Dec 10

Crestview is quickly outgrowing its bays and needs to either acquire a 5th Bay or move.

April 2011

Apr 11

Plans are set; construction of new Crestview building in the works.

November 2011

Nov 11

Hiring of key employees to do our own telecommunications.

May 2012

May 12

Crestview moves in to their present day two-storey contemporary design-built building in Eastlake Industrial.

June 2012

Jun 12

First 20 year employee celebrates their anniversary.

June 2013

Jun 13

Employee count reaches 100.

July 2013

Jul 13

Crestview celebrates 25 years in business.

June 2016

Jun 16

Employee count reaches 150.

January 2017

Jan 17

Ryan Engel steps into his father's shoes to run the company. New direction, new thinking, new growth.

"Continuity, Vision, Experience... A Proud Legacy" is coined.

January 2018

Jan 18

Key employees are hired to begin the Solar Division.

March 2018

Mar 18

Crestview Group is formed with 3 divisions: Crestview Electric, CVE Solar and Crestview Building Technologies.

August 2018

Aug 18

Employee count is 200 strong.